Hardware Supplies
The Panther system provides unprecedented control of workflow, driven by random-access and continuous loading of molecular samples, reagents and consumables. This innovative design enables your lab to improve productivity and accelerate results, ultimately helping enhance patient care, while reducing lab costs.
Created to be a fully automated sample-to-answer instrument, the Panther system eliminates the need for batch processing and automates all aspects of nucleic acid testing on a single, integrated platform. This system combines true walkaway freedom with intuitive design for ease of use. With its extraordinary level of automation, the Panther system improves laboratory productivity and operational efficiencies, promising to transform the world of molecular testing as we know it today.
ThinPrep 5000 Autoloader System
The ThinPrep 5000 Autoloader system is a fully automated sample processor that can improve your lab's workflow and reduce errors with even more hands-free processing. The ThinPrep 5000 Autoloader system allows loading of 1 to 160 samples with up to 8 hours of walkaway capability. It also features automatic slide etching. Like the ThinPrep T5000 processor, this system is approved to process ThinPrep Pap, Non-Gyn and UroCyte® samples
ThinPrep 5000 processor
Our ThinPrep 5000 processor, built on our proven ThinPrep technology, utilizes advanced automation to prepare samples with precision and efficiency. FDA-approved for ThinPrep® Pap, Non-Gyn and UroCyte® samples, the ThinPrep 5000 is a true walkaway processor. It significantly reduces the hands-on time and errors associated with manual specimen processing and allows you to better focus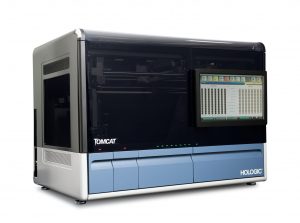 The Tomcat instrument
The Tomcat instrument can help to streamline workflow and enhance productivity by eliminating manual sample transfer.  Specifically, the Tomcat performs the following functions:
Barcode validation.

Vortexing

.
De-capping.

Aliquoting

.
Re-capping.
Reagent addition (when desired).
Incubation (when desired).
Racking of completed samples for molecular testing.
ThinPrep Imaging System 
Hologic has a long track record of developing innovative solutions that transform the world of cytology.
Our ThinPrep imaging system represents a significant advance in diagnostic capability, blending the best of computer imaging technology and human expertise. The ThinPrep imager automatically scans every cell and cell cluster, highlighting areas of interest for human analysis. When an experienced cytotechnologist reviews an imaged ThinPrep Pap test slide with an automated microscope, such as the Review Scope Manual Plus, the areas of special interest are clearly marked for interpretation. This Dual Review technology improves screening efficiency, combining human interpretive skill with computer analysis.
THINPREP INTEGRATED IMAGER
The ThinPrep Integrated Imager, Hologic's newest Pap test imaging solution, combines state-of-the-art imaging technology with the convenience of dual slide review in a single, automated, stand-alone microscope that fits neatly on a desktop.
With the ThinPrep Integrated Imager, individual slides can be imaged and ready for cytotechnologist review in approximately 90 seconds. During that time, the device scans each cell and cell cluster using optical density analysis and proprietary interpretation algorithms across the entire slide. It then identifies 22 fields of interest for the cytotechnologist to determine if further review is needed. Slide reviews are tracked on an intuitive touchscreen. The ThinPrep Integrated Imager tracks each slide's progress to ensure that abnormal cells and fields of interest are properly presented and reviewed. Areas of concern identified during the review can be electronically marked for further analysis. At any point in the process, users have the ability to review a specific field of interest, manually scan the surrounding area and return to the field of interest to complete the review. If the cytotechnologist determines no additional analysis is needed, slides can be quickly and easily signed out as negative, right then and there.
ThinPrep 2000 processor
This lightweight benchtop with a compact footprint has a track record of more than 20 years of laboratory success. Thousands of ThinPrep processors are in use worldwide.47 This versatile processor is lightweight and multiple units can be easily operated by a single operator. It is compatible with ThinPrep Pap test, ThinPrep Non-Gyn and ThinPrep UroCyte samples. The processor is simple and easy to use, with minimal consumables needed and an intuitive design to enable single sample processing, thus reducing the risk of chain-of-custody errors.